Product Videos
This masonry crack repair video demonstrates how to install stainless steel helical bars to tie and reinforce structures having cracks in walls. Simply cut slots in existing masonry bed joints, damp down the wall and grout the helical reinforcing bars into the walls to effect the structural repairs. Tensile loads are redistributed along the masonry, via the reinforcing bars helical profile, to minimise further development of the cracks.
62 seconds
---
Damp-Proofing Injection Cream to Stop Damp in Walls
This DPC injection video shows how to inject damp-proofing cream to stop rising damp problems in masonry walls. The 100% active damp-proofing cream is introduced into a series of 12mm holes drilled into the bed-joint by means of a simple injection applicator. Once the cream is injected, it diffuses rapidly before curing to form a replacement water-repellent damp proof course for the effective repair treatment of damp brick / masonry walls.
45 seconds
---
Brick Wall Reinforcement to Repair Window Lintel Failure
This brick wall reinforcement video shows how to use stainless steel reinforcing bars to create brick beams for the structural repair of a window lintel failure. Helical tie bars are introduced into walls to form deep masonry beams, which span areas of masonry failure, to enhance the load carrying capacity of the wall. Ideal for use before the replacement of a structural window or as a brick arch repair if a crack develops over an existing lintel.
88 seconds
---
Remedial Wall Ties for Masonry Wall Tie Replacement
This wall tie video demonstrates how to install replacement wall ties in a brick built cavity wall. Stainless steel helical tie bars are simply hammered into a pre-drill pilot hole to deliver a self tapping dry-fix connection that doesn't rely on the expanding mechanisms of mechanical ties or on resin adhesives. These UK engineered replacement ties are used by professional wall tie replacement contractors, builders & those competent in DIY repairs.
57 seconds
---
Grout-Free Connector for Walls that meet at Right-Angles
These long-series masonry anchor pins are ideal for tying masonry facades to party walls, securing loose cornerstones, tying thick stone walls, pinning masonry arches or for reinforcing parapet walls. The 12mm diameter ties are available in lengths up to 910mm making them the largest hammer-driven masonry fixing in the world. The ties are hammer-driven into 8 or 10mm pilot holes, delivering a reliable under-cut connection with minimum disturbance to the structure.
120 seconds
---
Strengthening Masonry Arch Bridges Tunnels & Buildings using Grouted Tie Bars
Masonry arch bridges, tunnels and buildings are strengthened using retrofit tie bars grouted through successive structural walls or layers. This video shows the installation process for inserting grout bonded helical ties as part of an engineered bridge strengthening scheme that is enhanced by the provision of a matrix reinforcement cage. Grout ties are also deal for use to retain and structurally repair a brick or masonry wall that is coming away from the main structure of a building.
71 seconds
---
The Twistfix Interactive House
The interactive Twistfix house groups together several structural masonry repair videos, and allows you to see how each method works in a 3d representation. The interactive house covers the use of helical bars used for brick lintel repair, wall tie replacement, wall crack repair and masonry pinning with . Simply select which video you'd like to see, sit back and learn how our products can work for you.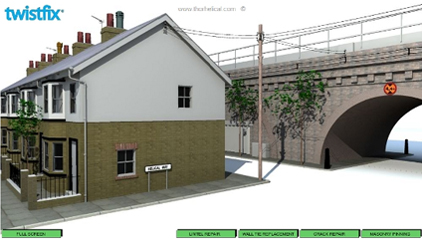 ---
Lateral Restraint Ties for Bulging Walls
Buildings having bowed or bulging brickwork are likely to have inadequate lateral restraint to brace the wall to floor joists, ceiling joists or structural roofing timbers. Without a physical bracing connection between the masonry walls and the timbers the wall can literally buckle under vertical loads. The Twistfix lateral restraint wall tie is engineered with an integral wood drilling end for quick and easy external installation, avoiding major and costly disruption to the inside of the home. Installation points are easy to disguise to affect an invisible wall repair.
108 seconds
---
Electro Osmosis Damp Proofing
Electro osmosis damp proofing systems are a proven scientific method of treating rising damp in walls. A small positive charge repels free moisture molecules from the anodes and attracts them to the cathode. This electro osmotic DPC system is ideal for stone or rubble filled walls and offers a reliable non-chemical damp proof course.
65 seconds