Woodworm Killer used Safely at New Forest Mill
In a recent article, we reported that Eling Mill in the New Forest area of Hampshire was enjoying a complete renovation and development, part of which involved extensive timber treatments to eradicate an active woodworm infestation. As a Grade II Listed Building, Eling Mill required sensitive treatment and Perma-Fix, a Twistfix-registered contractor, were selected for the job thanks to their impressive reputation for carrying our high-quality work using our product range.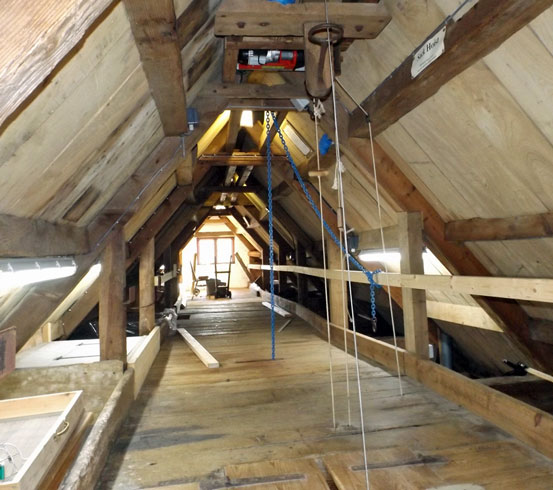 After an extensive survey revealed woodworm infestation in sotwood and hardwood timbers, the services of Permafix were engaged to rectify the issue. Contractors from the timber treatment specialist developed a bespoke remedial plan that would combine a high level of timber protection with a safe method of application.
Protecting the immediate environment was absolutely essential to prevent powerful timber treatment chemicals entering the river. Other vulnerable areas were also protected before application. Ensuring that no chemicals could get into machinery was of paramount importance to prevent flour, which is still ground and sold by the mill, becoming contaminated.
Woodworm in timber structures create many problems, from unsightly holes to structural weakness as the internal material of the building is literally eaten away. In a building as old as Eling Mill, this can pose a serious risk to safety as well as the structure itself. Our woodworm eradication and timber protection treatments, which were applied mainly via brush to avoid any contamination risk from widespread spray mist, easily and reliably solved the problem.
We supply a wide range of timber preservatives and wood-boring insect eradication products, which includes wood-preserving gels, pastes and sprays. Our professional Woodworm Spray Kit contains HSE-registered micro-emulsion insecticide fluid along with accessories, including mixing container and spray unit with brass lance, quickly gets to work to eradicate the infestation and protect against recurrence in the future. Extremely versatile, the insecticide can be used on most internal woodwork in properties of all ages to deliver a reliable, lasting result.
Our range of Timber Preservatives is currently available with price discounts ranging from 24-52%