Structural Repairs- Hampshire Listed Building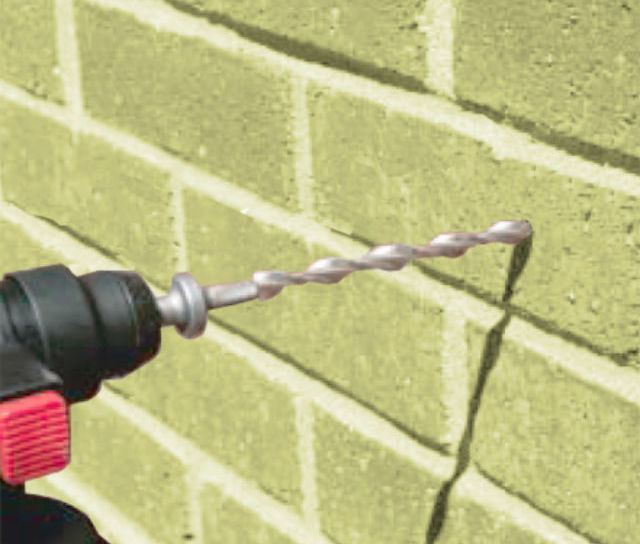 A system of structural repairs and cavity wall tie replacement has been carried out to a Grade 2 listed building in Havant, near Portsmouth in Hampshire, using helical bars and cavity wall ties supplied by Twistfix. Hall Place was built in 1796 and is an excellent example of an early UK cavity wall structure.
The front elevation of the building comprises a 9" structural inner wall, and a 4½" outer façade of "snapped header" flemish bond brickwork, beneath a solid parapet wall. The yellow buff bricks of which it is built were brought into the area from Dorset as a prestigious building material.
The outer leaf of the cavity wall was identified as being out of plumb and exhibiting a series of undulations between the top of the wall and the lower levels. The tied-arch soldier course lintels had failed, causing cracking of the brickwork above the windows.
Replacement cavity wall ties were installed to reconnect the walls on either side of the cavity and prevent further separation. A self- tapping cavity wall tie replacement system was selected to ensure the smallest drill holes were used in order not to deface the façade of the listed building. Twistfix replacement cavity ties are installed into a tiny pilot hole of just 6mm in diameter.
Long lengths of helical bars were installed to the masonry above the window openings.­ The bed joint reinforcement forms a series of deep masonry beams with top and bottom reinforcement tendons.­ These beams enable all the vertical loads to be collected and redistributed to areas of brickwork on either side of the openings.
All other cracks were stitched with shorter helical brick stitching tie bars to help dissipate the forces that caused the cracks and add resilience to the brickwork.­ All bed joint rein­for­cement repair slots were made good using lime putty mortar.
The local authority building control officer was delighted that the cavity wall tie replacement scheme and the extensive structural repair works were carried out by 1st Master Wall Ties, a Twistfix Registered Contractor, using techniques and materials that left the English Heritage Grade 2 listed building looking untouched.
Portsmouth and other exposed south coast areas in Hampshire, Dorset and West Sussex were amongst the first regions in the UK to widely adopt cavity wall structures for domestic buildings.
For more information on products used for structural repairs or cavity tie replacement contact Twistfix on 0845 123 6006 or email info@twistfix.co.uk.