Damp Check – Mesh Membrane Kit
Overview
The Twistfix Damp Check Kit contains everything needed to provide an effective moisture barrier when isolating damp walls from internal finishes. It is ideal for use after the insertion of a remedial damp course, for blocking damp penetration and installing wet rooms and showers. The durable damp-proof membrane incorperates 3mm 'stand-off' studs on one side and a mesh face on the other for accepting dot and dab dry-lining, tile adhesive and cement renders.
The Damp Check kit comprises:
1 x 10m x 1M roll of air-gap tanking membrane having 3mm studs at 20mm centres
1 x 10m roll butyl rubber waterproofing tape
100 x Hammer-in fixing plugs
The durable and flexible air-gap membrane is quick and easy to use, easily bent around corners and can be cut with a knife or scissors.
Hold tightly against the wall surface
Drill 8mm anchor holes and secure the membrane to the wall with hammer-in plugs
Seal joints with butyl rubber tape
Plaster, tile or dot and dab plasterboard sheets directly onto the mesh
The 10m Damp Check Kit provides a barrier against moisture and dampness. The air gap between studs to allow walls to breathe and water to drain behind the damp-proof membrane.
Reviews (0)
There are no reviews yet.
See also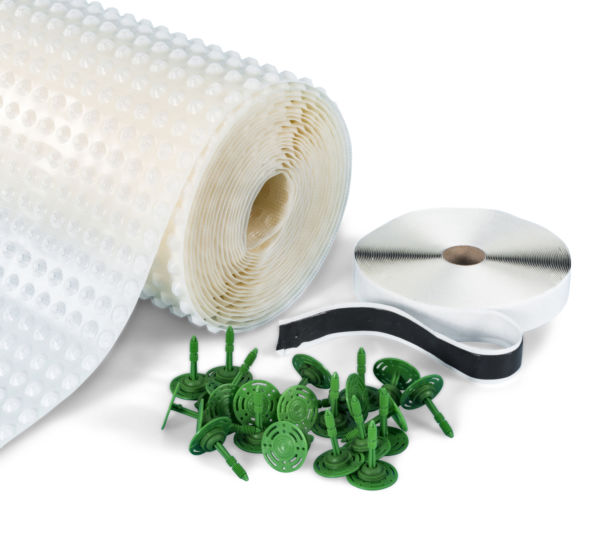 Mesh membrane kit in 3 sizes with everything needed for waterproofing wall surfaces. These waterproof tanking membranes include a mesh face for direct application of plaster or dabs for plasterboard.
RRP

£279.00

£213.48
£177.90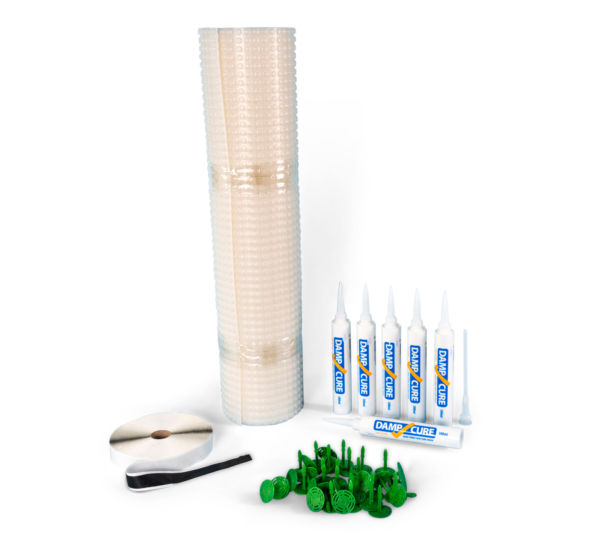 A universal damp treatment kit for treating damp walls above ground level. This 3 in 1 damp treatment system will stop rising-damp block penetrating damp and combat condensation. The product will cover 10m of wall.
RRP

£249.50

£214.56
£178.80
A cost effective high density polyethylene tanking membrane with 3mm studs formed on one face of the product and a mesh welded to the other side. Available at a special trade price in a 1m x 20m or 2m x 20m roll
RRP

£129.50

£102.00
£85.00